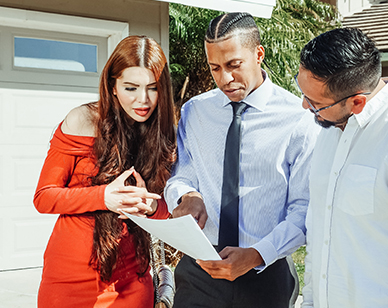 It's The Little Things: What Sellers Miss When Showing Homes
You know that selling your home will more than likely involve potential buyers actually touring your home–probably before you move into your new place. Whether it's an open house or a private tour, people will be in your space. You want to make a good impression, but decor and neatness are so subjective. Several small details can slip through the cracks–and each could turn off potential buyers. A Pre listing inspection is neccesary in first instance then some minor but important details we mention below:
A Lackluster Yard
We all learned the maxim, "never judge a book by its cover" in elementary school, but that lesson does not extend to real estate. Curb appeal is real. If buyers see that your front yard is a mess, they might wonder about the rest of your house. A buyer might not care that you have a valid reason for a messy yard (allergies, for example). Exterior maintenance is indicative of interior maintenance.
Cluttered Closets
Buyers love storage space. Sellers should maximize as much storage space as they can before they show their homes (e.g., installing floating shelves in a small bath or a counter over the front-loading washer/dryer set for folding clothes). In their haste to tidy up the home, however, some sellers cram the closets full of clutter. The goal is to show spaciousness, but it results in closets full of junk. As Forbes and others explain, buyers want to see expansive, organized closets.
Messy Garages or Carports
The same point as the previous entry. If you want to show off your home's organizational potential, then utilize it. Buyers will be impressed with your orderly assortment of gardening tools, hung on the carport wall and arranged by season. Show that their kids will be able to stow away all of their sports gear with those large garage shelves.
Selling Or Buying A Property? You'll Need Help From Certified Home Inspectors!
Tiny Details
There is a broken planter on your front porch. The gutters are noticeably filled with leaves. The windowsill in your guest bedroom has peeling paint. The screen door to your sunroom squeaks. Separately, such tiny details are easy to miss; considered together, such issues could indicate larger problems with upkeep. At the very least, buyers are going to register all the small things as the stuff they would have to fix if they bought your house.
Ugly, Offensive, or Risqué Art
Your home is your domain, and you should feel free to decorate it as you please. If you want to adorn your walls with amateur watercolors of weeping clowns, vintage photographs of scantily-clad bathing beauties, or production stills from Polish horror movies, you can. However, these items will distract and possibly alienate any potential buyers. You could try to explain that you bought that antique "No Irish Need Apply" sign ironically, but it's easier for everyone if you just stash away items of questionable or acquired taste.
"What's that weird smell?"
When you live in a home, you become accustomed to the environment. You might not notice the odors that your guests have mentioned. Do a deep clean before you show your home: carpets, upholstery, the works. Take out all the garbage and recycling– while you're at it, bleach the receptacles. Cats (and other pets) should already be with a pet sitter or boarding kennel while you show your home, but don't forget to remove the litter box too! The only way to be absolutely sure that you will pass the smell test is to invite a neutral third party who has never visited your home. You might also want to use a (lightly) scented candle or two!
You want your buyer to be able to see him/herself and his/her family in your home. Your house need not be sterile, but it should feel comfortable. If you have any questions, be sure to consult with your realtor.  
If you have any unresolved questions please contact us! We will be happy to hear from you. 
Avoid Problems, Hire Certified Inspectors!
Please, leave us your message and we'll be happy to help you with your inspection.

Hi, my name is Rick Blake, and I am a certified home inspector. I have been in the business for over 20 years and have helped thousands of families buy or sell their homes. I am passionate about my work and take pride in providing honest, unbiased opinions about a home's condition. As a certified home inspector, I am trained to identify potential problems with a home's structure, systems, and components.